REPLACING BELT ON OLD BUFFALO CHOPPERS 8141-84141-8142-84142
THIS IS THE STARTING POINT FOR CHANGING THE BELT ON THE OLD HOBART BUFFALLO CHOPPERS. TAKE OFF THE LID & BOWL AND THE KNIVES SEE THE FOUR SCREWS WERE THE SHAFT COMES OUT OF THE MACHINE REMOVE THEM

NEXT YOU HAVE TO UNSCREW THE KEEPER NUT YOU WILL SEE I HAVE A PUNCH TO TAP IT COUNTER CLOCKWISE THAT WILL JUST UNSCREW A LITTLE RUSTY BUT THESE ARE OLD MACHINES

NOW THAT THE KEEPER NUT HAS BEEN REMOVED YOU HAVE THE FRONT HALF OF THE PULLEY REMOVE THE SAME AS ABOVE TAP COUNTER CLOCKWISE AND REMOVE IT

AFTER YOU REMOVE THE OUTSIDE OF THE PULLEY YOU NOW CAN SEE THE BELT

NOW YOU WILL HAVE TO REMOVE THE SAFTEY PAN ON THE BOTTOM OF THE MACHINE AND THERE IS THE UNDERSIDE OF THE BELT
PLEASE NOTE SOME MACHINES DO NOT HAVE THE PAN DO NOT LET THIS BOTHER YOU
NOW JUST TAKE BELT OFF THE PULLEY AND PUSH IT TO THE TOP OF MACHINE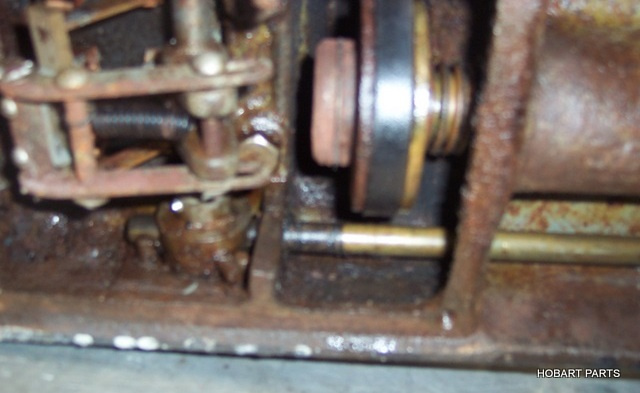 NOW JUST TAKE OFF BELT BY SLIDING THRU THE TOP AND PUT ON NEW BELT AND REVERSE TH WHOLE PROCEDURE I KNOW MOST BELT CHANGES ARE MADE WHEN THE OLD BELT WEARS COMPLETELY OUT AND BREAKS BUT YOU WILL STILL HAVE TO GO THRU THIS PROCEDURE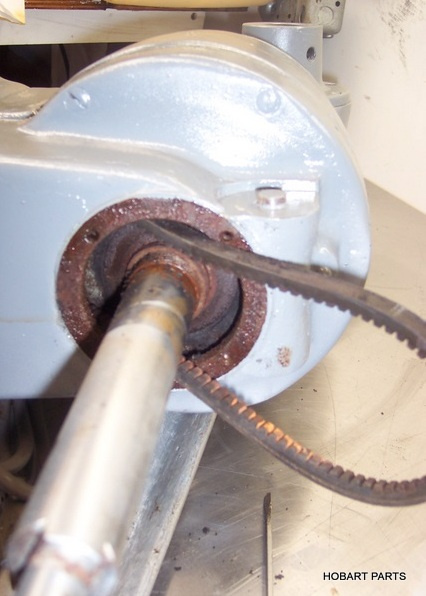 Another Question Recently Asked
Do you know what grease should I use for a Hobart 8141 bowl chopper?
Thanks,
Answer
Hello Terry
If you are going to add any grease to that machine I would advise you to get all of the old grease out
When you mix two different type grease it usually turns in to a mess and all of the grease breaks down and runs everywhere.
I use a marine type Hi temp grease when ever replacing grease it sticks better to the gears and is not very expensive, but you have a job in front of you their is a lot of grease in those old machines.
If you are have a greave breakdown just take out all of the runny stuff and leave the rest alone you have to go way inside to remove all of the old grease
Ed